Aka Goodreads Lists suck (sometimes)! Also, my January Wrap-up.
To explain the title, even though these books all existed on lists with 'birthday' tagged in, there was only one that actually contained a birthday. So sad that I wasn't able to truly accomplish what I set out to do, but even so, it wasn't a complete waste. This may be one of the least comprehensive wrap-ups I've done, if so, then I'm sorry.
Let us all take a moment while we appreciate the fact that this post still exists. It took several days of back and forth for me to finally decide that I will, in fact, put this up. Far, far behind schedule, but as the saying goes: better late...
Birthday Wrap-up:
1. The Siren by Kiera Cass - 3 stars. She is the queen of fluff. The concept was interesting amd certainly a theme I might try again. But this is not a series that I shall be continuing. Maybe I should see if she has any stand alones. That might be more up my alley.
2. Happy Birthday Wanda June by Kurt Vonnegut - 3 stars. Kurt Vonnegut does weird like no one else. I went in blind on this one, not having the slightest idea what this book was about until I had started it. The only thing I knew with certainty was that it would be short. It wasn't terrible, but it wasn't amazing either. It held my interest.
3. The Rest of Us Just Live Here by Patrick Ness - 4 stars. I enjoyed 'A Monster Calls' and the concept of this sounded unique and fun. It delivered exactly what it promised: friends living on the outskirts of the end of the world, trying to get through their every day problems. It was strange seeing the action happening but not having a first hand account of it. Ness knows what he's doing.
In the first and last weeks of January: 
1. Don't Tell Anyone by Eleanor Gray (ARC, released December 8, 2016)- I had a lot of thoughts while reading this one. A lot. There will be a full review of this book coming soon. 3.5 stars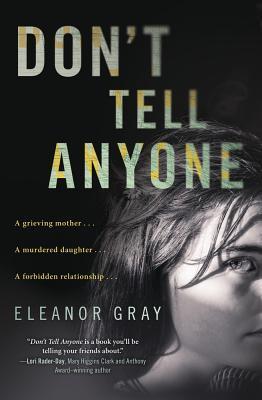 "Nearly lost in a fog of grief over the fatal stabbing of her daughter, art historian Grace Neville feels only sorrow as Jordan Dukes is found guilty of murder. Days after the sentencing, Grace receives a visit from Jordan's father, who claims that his son is innocent and a grave miscarriage of justice has taken place. Jordan's history of gang-related violence and the fact that he doesn't have an alibi make his father's plea hard to believe. But then why does somebody break into Grace's home and go through her daughter's belongings?"
2. Eleanor and Park by Rainbow Rowell - 4 stars. This book left me desparate to know what happened to Eleanor, and what the last letter she sent to Park actually said. You cannot end a book like that! Whyyyyyy? Her story was tragic, but not far from reality for someone out there. I wanted to save her with everything within me; save her from her mother who couldn't protect her, save her from her father who was too self-involved to realize his children needed saving, but most importantly, save her from her step-father who needed to not exist any more.