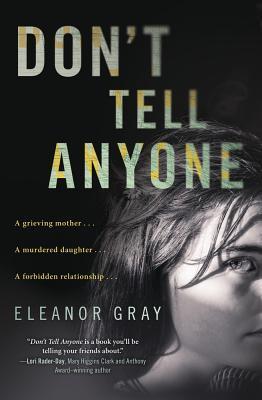 -- Nearly lost in a fog of grief over the fatal stabbing of her daughter, art historian Grace Neville feels only sorrow as Jordan Dukes is found guilty of murder. Days after the sentencing, Grace receives a visit from Jordan's father, who claims that his son is innocent and a grave miscarriage of justice has taken place. Jordan's history of gang-related violence and the fact that he doesn't have an alibi make his father's plea hard to believe. But then why does somebody break into Grace's home and go through her daughter's belongings? --
If you like thrillers that leave you just enough clues to THINK that you have it figured out, then this might be the book for you. As I was reading, I picked up a few of the clues and I ran headlong into more twists. Most of the times I was right in my assumptions, but others, I was left saying: "Well, I'm an idiot."
We enter the story with a flashback, pre-murder, to the beginning of the end of Grace's world. Her marriage is over. The marriage that she had always assumed was picture perfect and filled with mutual, all-consuming love. Grace believes that this is where Tara's future was altered, inevitably causing her death. Whether that's true or not, is left up to the readers to discover. 
Here's the thing, this main character is not one that I liked at first. I found her constant pandering to everyone else irritating. In the first instance, she keeps trying to win back her cheating ex-husband, who had quite clearly moved on. She almost worships him, despite the hurt he has put her through, placing his opinion always at the forefront. But, they were together for more than ten years, so that habit is understandably hard to break. Fair enough.
But then Tara dies, and still, she does not take priority, over any one or anything in her life. YOUR daughter just died, and yet here you are trying to please your ex-husband, your sister, your mother. And the guilt trip that her sister keeps putting her through, that she ALLOWS her sister to put her through. Ugh. I understand that people grieve in different ways but, damn. And these things can easily be overlooked as Grace being nothing more than human, with a possibly unhealthy family dynamic, but I just wanted to shake her. She needed to wake up and take care of herself for once.
 "What makes you think anything or anyone can hurt me after what I've been through?"
Eventually she redeems herself in my eyes though. I won't say how because *spoilers*...but just know that she won't always be second to everyone. 
I wish I'd gone properly insane, not this weird, unpredictable flitting in and out of madness followed by bouts of extreme, unvarnished lucidity. It would have been easier.
There are a few other things that I took issue with in this book:
1. Casual mention of wanting to commit suicide.
2. The constantly negative association between Caribbean parents and child abandonment. One of Grace's stepfathers was a Trinidadian who decided to leave in the middle of raising Grace and her siblings. There was also a Jamaican mother who left to go back to Jamaica, leaving her two children behind. As if, familial ties and personal responsibility meant nothing. As if, underneath their dreadlocks lay a blatant disregard for anyone other than themselves.
Maybe I'm overly sensitive where these topics are concerned, or maybe I'm right to point these things out. Either way, there they are.
I've never been good at deception, unless when deceiving myself.
The simplest way to describe this novel is as a UK based suspense about a mother in pain, trying to find justice for her daughter.
TL;DR -: If you're here for a Thriller/Suspense, and don't mind sitting through some character growth, then give it a try. This book was released on December 8th, 2016.
Avg. Goodreads rating: 3.43
Avg. Amazon rating: 3.3
My rating: 3.5. Some of the twists caught me off-guard for sure, especially the culprit and why they killed Tara. Overall, I liked the way Gray wrote, I appreciated the suspense and the character growth.